INDOOR / OUTDOOR & ONLINE Fitness Classes
At last I have one evening class back indoors at Yatton Keynell on a Tuesday evening, which I am also broadcasting live on zoom! This class is fully booked for the 8 week program but after the Summer in October I will re-open for a new term, lockdown rules permitting.
Wednesday's 'Spring into Summer' Bootcamp at Biddestone Playing fields is also back on, and is available if any-one who wants to drop in on an ad-hoc basis.
For my 'Online Virtual Classes' I use the Zoom interactive platform. It has really worked well, and all of my clients have found more time to exercise than before due to the convenience of working out from home. Zoom is a very easy app to download onto your laptop, or smart device and its free https://zoom.us/support/download
The online classes are 45 minutes long and can be done in the privacy of your own garden, lounge, dining room or wherever you can find an area of space, approximately 1.8m square. All you will need is a mat, some dumbbells or kettlebells if you have them, or improvise with filled water bottles or food tins, and of course the right attitude!
The cost per class on a pay as you go basis is £5.50, alternatively you can purchase a 'Simon Says Fitness Virtual Club Card' for £54, which gives you 12 sessions at £4.50 per class. This card expires after 15 weeks from date of purchase.
All you need to do to join a class is to drop me an email info@simonsaysfitness.co.uk with your interest and I will send you a fitness questionnaire to complete and sign, with my bank details, and then I will set you up with a recurring Zoom invitation.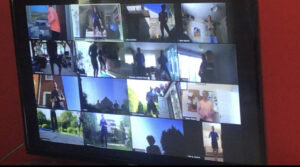 How to book - 
To sign up for any class please drop me an email, and I will send you a physical activity questionnaire for you to complete prior to starting your first class. info@simonsaysfitness.co.uk
Or if you would like to have a chat to discuss the above classes, please give me a call on 07815 619138